We Outmaneuver Our Opponents
At least 6 killed in New Mexico due to a Greyhound bus, semi crash on I-40.
Tragic accidents happen too frequently as of late. In this case an 18 wheeler was traveling east bound on I 40 in New Mexico near the town of Thoreau, McKinley County. Per a state Troopers announcement the Truck blew a tire and the driver lost control of the vehicle, crossed over to the west bound lane and caused a head-on crash with the Greyhound bus traveling west. A Greyhound official said the bus was traveling from Albuquerque to Phoenix around 1 p.m., with nearly 50 passengers on board, when it crashed. The bus started its journey in St. Louis on Wednesday with destination to Los Angeles.
As of this moment 6 Passengers are said to have died. All but six of the passengers from the Greyhound Bus have been transported to local hospital for treatment.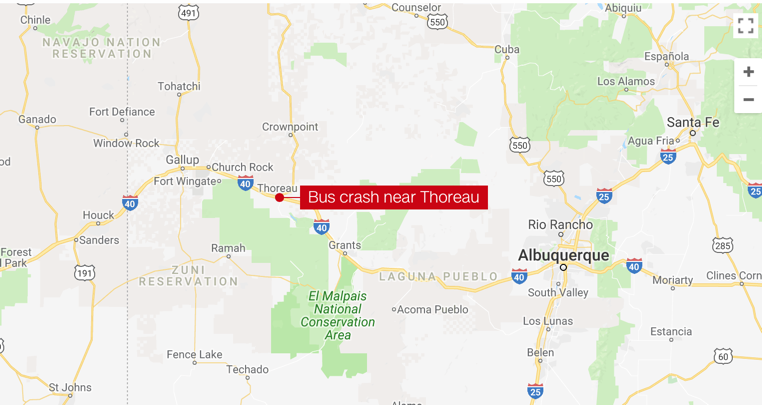 If you need representation from a competent Law Firm please call us today. We can and will help you and your Family to get justice for this tragedy. 1800-862-1260 
Many Truck caused accidents could be avoided if the trucking companies would implement more strict inspections of their commercial Vehicles.
Having a blow-out is an event we hear of frequently on the roads, from family or friends. But most of the time it's a reflection of poor maintenance. New tires don't just go and blow. Either way new tire – old tire we can get to the source of the cause. But time is of the essence in Truck Accident cases like this.
Call us today 1800-862-1260
Now we understand that the NHTSB is going to be on the scene to do their due diligence. https://cdan.nhtsa.gov/SASStoredProcess/guest
A national study found that approximately 5,000 people in passenger vehicles die every year in accidents involving semi-trucks and 18-wheelers. In 2016, 3,986 people died in truck crashes. That year, New Mexico saw 358 fatal accidents alone involving 18 wheelers.
At Carabin Shaw, our hearts go out to the families and friends of those impacted by the crash. Carabin Shaw was founded 25 years ago to fight for the rights and interests of victims of auto accidents, trucking accidents, and 18- wheeler accidents. We are vigilant in protecting the families of our clients, because we know that the aftermath of any tragedy effects more than just the victim. It affects the family as a whole, and the long-term consequences of an accident will change a family forever.
In times such as these, family is of high regard. McKinley County Emergency Management has created a hotline, 505-722-4246, for those associated with the Greyhound passengers looking for information on their loves ones. Greyhound has also established a Friends and Family hotline at 1-800-972-4583 for updates. If you feel you have need of legal services or just want to know what your rights are, Carabin Shaw is here for you. Our office hotline, 1800-862-1260, is open 24 hours a days for you or your family's convenience. If you have to walk through a tragedy, make it as smooth as possible. Never go it alone. Let us advocate for your rights effectively and competently so that you can heal without added stress.